Today we are going to talk about the term A Bakers Dozen and explore where it comes from. Do you find that sayings sometimes get lost over time? And this is one of those sayings that has an age old history and an interesting one at that.
So let's dive in and find out the story behind a Bakers Dozen? Because despite popular belief it's not all about math, and more about an old law and short weight products. Also of how bakers avoided harsh penalties set out by the king.
What Is 13 A Bakers Dozen?
A "baker's dozen" is a term that refers to a group of 13 items, typically used in the context of selling goods, particularly baked goods.
How Did 12 Become A Dozen?
The origin of the word "dozen" can be traced back to the ancient civilizations of the Middle East. The Sumerians, Babylonians, and other ancient peoples used a base-60 counting system. This included many convenient fractions for dividing quantities. One of these fractions was 1/12, which was represented by the Sumerian word "duzanna."
Duzanna as a word eventually made its way into medieval Europe. Here it was adopted by French and English traders and merchants. Over time, "duzanna" evolved into the word "dozaine" in French, and "dozen" in English.
The number 12 was widely used in trade and commerce because it is easily divisible by 2, 3, 4, and 6. Thus making it a convenient quantity for counting and measuring. In addition, many ancient cultures associated the number 12 with completeness and perfection. This is as it appears in the number of months in a year, the number of hours on a clock, and the number of apostles in Christianity.
Thus, the number 12 became a common and widely recognized quantity, and its association with the word "dozen" has endured to this day.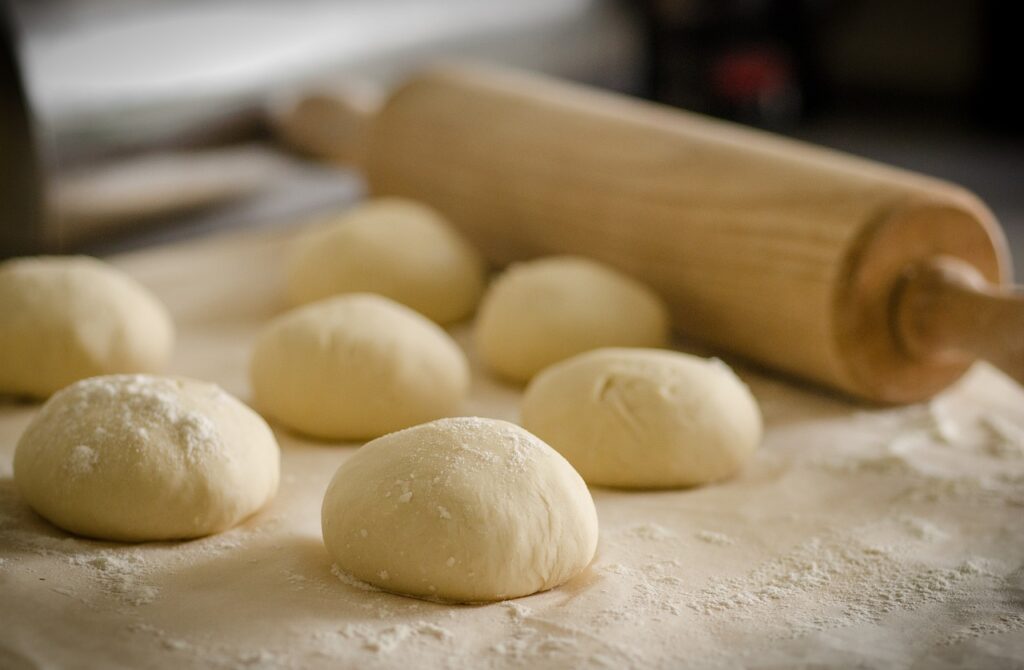 What Is The Story Of A Bakers Dozen?
The term "baker's dozen" originated in London in medieval England. Bakers were regulated by a trade guild called The Worshipful Company of Bakers, which dates back to at least the reign of King Henry III. These strict laws governed the weight and price of bread which is an example of early regulators of trade.
This was because some bakers' former practice of selling undersized loaves for the full price and underselling customers.
At that time, bread was sold by the loaf, rather than by weight. Also bakers were required to sell loaves of bread that weighed a specific amount. Which was tricky to get exact as some bakers didn't own their own scales.
What Was The Penalty Of Short Selling Bread?
Penalties for short selling bread varied depending on the severity of the offense, but they were generally harsh. For example, a baker who was caught short selling bread could face fines, imprisonment. In some cases, bakers could have their ears cut off and nailed over the door of their bakery, be branded on the forehead with the letter "F" for "falsehood," or placed in the pillory or stocks for public humiliation or sometimes flogging and jail time,
Additionally, bakers who were found to be short selling bread could lose their license to bake bread, which would effectively put them out of business. This was a serious consequence, as bakers were required to have a license to sell bread, and without one, they could not legally operate.
Overall, short selling bread was considered a serious offense in medieval England, and the penalties for doing so were severe. This was because bread was a crucial food item, and the government wanted to ensure that it was affordable and accessible to all people.
The Bakers Overcome This By Creating The Bakers Dozen?
To ensure that their loaves met these minimum weight standards and avoid harsh penalties bakers would often add a little extra dough to each loaf. This would increase its weight and avoid the penalty of selling a light loaf. However, if they added too much extra dough, the loaf would be too heavy. Thus also resulting in punishment and a fine by the authorities.
To avoid this penalty, bakers began to add an extra loaf to every dozen they sold. This extra bread loaf was called the "in-bread," and it was added to ensure that the customer received the correct amount of bread, even if some of the loaves were slightly underweight.
Over time, this practice of adding an extra loaf to every dozen became so common that it became known as a "baker's dozen." By the 16th century, the term was in common use, and it was even mentioned in legal documents.
Today, the term "baker's dozen" is still used to refer to a group of 13 items, although it is often used more generally to indicate a quantity that is slightly more than what would normally be expected.
What Is Bakers Dozen In Cockney Rhyming Slang?
In Cockney rhyming slang, "cousin" is often referred to as "dozen". This is because "dozen" rhymes with "cousin", and in Cockney slang, the rhyming word is used in place of the original word.
Also check out what A Bird In The Hand Means?