"One for sorrow, two for joy" is an old English saying that is often associated with superstition and the belief in the magical or supernatural powers of birds, particularly magpies.
The rhyme is based on the belief that seeing a single magpie is a bad omen and brings sorrow or bad luck, while seeing two magpies together is a sign of good luck and happiness. It is said that the number of magpies one sees can reveal different fortunes, depending on the number seen. However, it's important to note that this is just a superstition, and should not be taken too seriously.
What Does One For Sorrow Two For Joy Mean?
The full version of the rhyme goes like this:
"One for sorrow, Two for joy, Three for a girl, Four for a boy, Five for silver, Six for gold, Seven for a secret, Never to be told."
What Does Each Line Of One For Sorrow Two For Joy Mean?
One for sorrow: Seeing a single magpie is considered bad luck or a sign of sorrow.
Two for joy: Seeing two magpies together is thought to bring good luck or happiness.
Three for a girl: Seeing three magpies is said to be a sign that a baby girl will be born.
Four for a boy: Seeing four magpies is believed to indicate the birth of a baby boy.
Five for silver: Seeing five magpies is thought to bring silver or money.
Six for gold: Seeing six magpies is said to represent gold or wealth.
Seven for a secret never to be told: Seeing seven magpies is believed to indicate a secret or mystery that will never be revealed.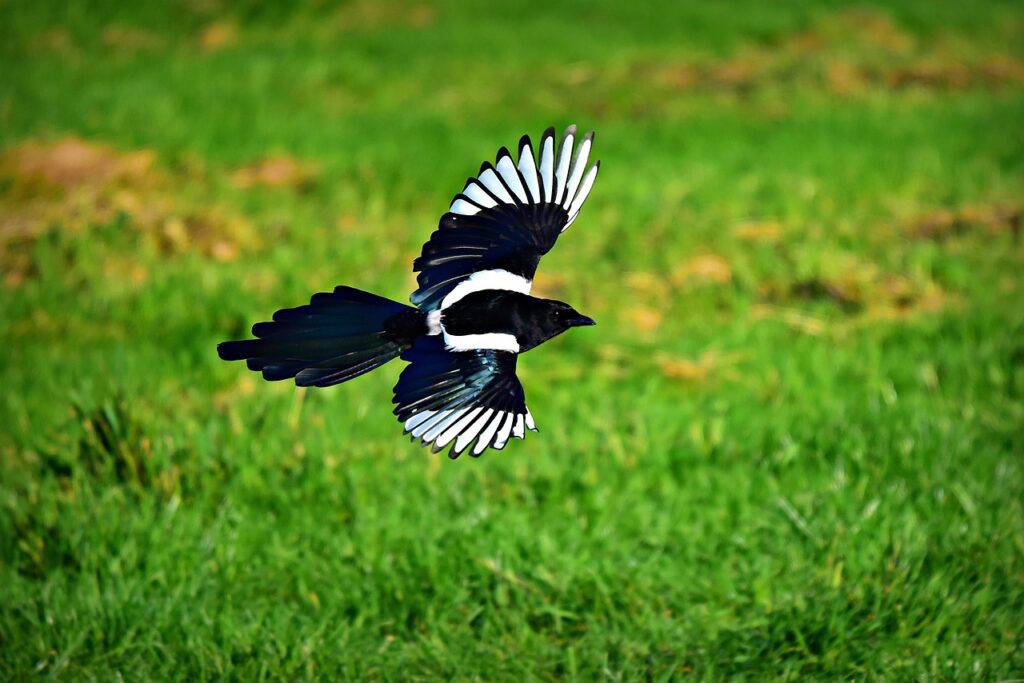 Where Does The Rhyme One For Sorrow Two For Joy Come From
The origins of the rhyme "One for sorrow, two for joy" are unclear, but it is believed to have originated in England during the Victorian era. It was likely part of a larger body of folklore and superstitions surrounding magpies and other birds, which were thought to have special powers and associations with different outcomes.
Magpies often travel in pairs or small groups, and it is believed that the number of magpies that you see can have different meanings.
The "One for sorrow, two for joy" rhyme is thought to be one of many rhymes and sayings that were used to interpret the behavior of magpies and other birds. The rhyme may have originated as a way to help people remember the various meanings associated with seeing different numbers of magpies.
Over time, the rhyme became a popular part of English culture and is still recited today when people see magpies. While the original meanings and superstitions associated with the rhyme may have faded, the rhyme itself remains a beloved part of English folklore.
Should You Salute A Magpie?
Saluting or greeting a magpie is part of this superstition that has been passed down through generations in some cultures. It is believed that saluting or saying "hello" to a magpie can bring good luck or ward off bad luck.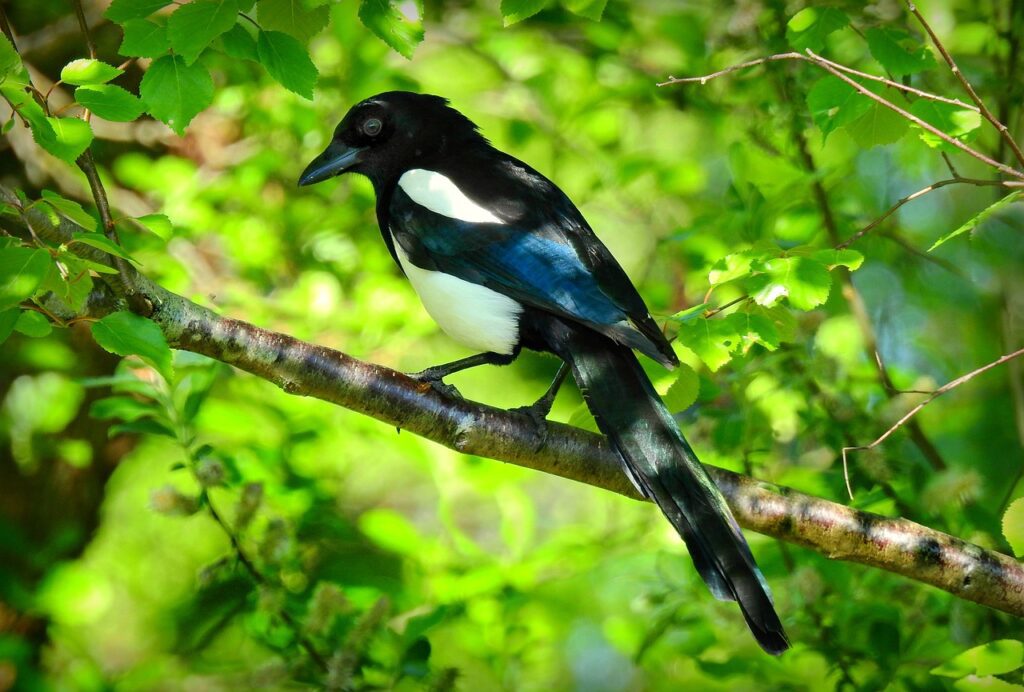 Here Are Some Examples Of What Magpies Represent In Different Cultures:
In English Folklore
Magpies are often associated with bad luck and sorrow. The rhyme "One for sorrow, two for joy" is a well-known example of this belief. Some people also believe that if they see a magpie on the morning of a wedding, it is a sign that the marriage will be unhappy. They are also known for for picking up shiny items, particularly precious stones or metal objects.
Chinese Folklore Says
Magpies are seen as symbols of happiness and good fortune. The magpie is sometimes referred to as the "bird of happiness," and is often depicted in art and literature as a bird that brings good luck and joy. According to legend, magpies will also bring good news and fortune if they make a nest in your yard.
In Korean Mythology
Magpies are associated with love, luck and relationships. A popular folktale tells the story of a magpie who helped two separated lovers reunite. Magpies are also considered to be a symbol of good luck and prosperity. Korean children were also taught that when you lose a tooth, they must throw it on the roof singing a song for the magpie Thus the bird will hear your song and bring you a new tooth.
In Native American Folklore
Magpies are sometimes seen as tricksters or mischievous spirits. They are also sometimes associated with wisdom and intelligence. In some Native American cultures, magpies are believed to have the ability to communicate with the spirit world.
In Iranian Folklore
Magpies are believed to be the keepers of secrets. They are sometimes depicted as birds that keep watch over hidden treasures. Magpies are also associated with good fortune and success.
Scottish Folklore Says
A single magpie seen near a window is believed to be a sign of an impending death are alleged to carrying a drop of Satan's blood under their tongues.
In Danish folklore
Magpies are believe to be linked to Skadi the daughter of a giant, who was a priestess of the magpie clan. The black and white markings of the magpie were seen to represents sexual union, but also as male and female energies kept in balance. Scandinavians also believed that magpies were sorcerers flying to unholy gatherings. However nesting magpie was once considered a sign of luck.
Magpies In Reality
In reality, magpies are intelligent and social birds that are found in many parts of the world. Of course they are easily recognizable by their black and white feathers and long tails. Magpies are known for their high intelligence and problem-solving abilities. They are able to recognize themselves in mirrors, understand cause-and-effect relationships, and use tools to obtain food.
Magpies are highly social birds that often form large flocks. They are also known to exhibit cooperative breeding behavior, with non-breeding birds helping to raise the young of breeding pairs. And for their loud and varied vocalizations, which include whistles, chatters, and mimicry of other bird species.
Magpies are omnivores and will eat a variety of foods, including insects, small mammals, seeds, fruits, and carrion. And can be found in a variety of habitats, including forests, woodlands, urban areas, and agricultural land.
Overall, magpies are fascinating birds that exhibit a range of interesting behaviors and traits. Their high intelligence, social behavior, and vocalizations make them a popular subject of study for researchers and birdwatchers alike.
In conclusion
Magpies have been the subject of mythology and folklore in many cultures around the world. In the Uk we have the saying "One for sorry, two for joy" But magpie have their own meanings and stories around the world.
They are often associated with good fortune and happiness, but also with bad luck and sorrow. Magpies have been portrayed as tricksters, messengers, keepers of secrets, and even as the subjects of creation myths.
The stories and beliefs surrounding magpies in mythology reflect the deep cultural significance of these birds, which have captivated human imaginations for centuries.